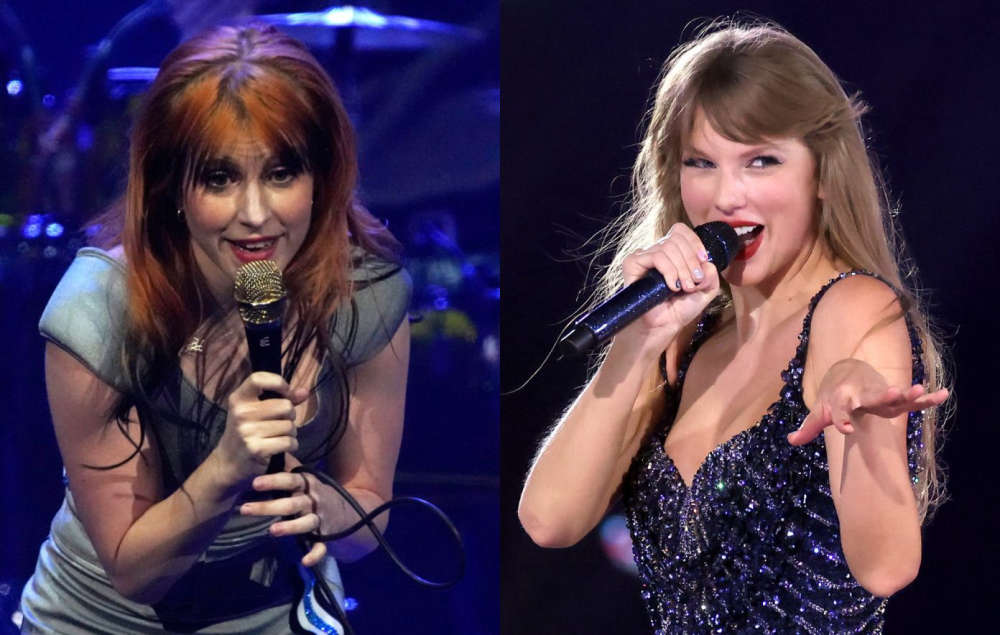 Hayley Williams of Paramore; Taylor Swift. CREDIT: Rick Scuteri/Invision/AP; John Shearer/Getty Images for TAS Rights Management
The Paramore singer spoke on the opening night of Swift's 'Eras' tour about their early interactions
Hayley Williams has recalled contacting Taylor Swift for the first time, after Swift was criticised at the 2009 VMAs by Kanye West for beating Beyoncé to an award.
The Paramore singer spoke to the crowd on the opening night of Swift's US tour at the State Farm Stadium in Glendale, Arizona. Paramore supported Swift last night (March 17) and will also perform tonight (March 18) at the same venue.
She recounted the pair's early interactions, explaining that it was Swift's mother, Andrea, who wished the teenaged stars could form a supportive relationship due to the both being so young in the music industry.
"I remember feeling like, 'We're so little, we're so young,'" Williams recalled on stage of the period in the late '00s. "I was like 18 at the time. And I felt kinda lonely to be that young and to be doing things, you know, like the Grammys and all that.
Andrea Swift approached Williams, who now also performs solo outside of Paramore, and gave her her daughter's phone number, saying: "She's just getting started, she doesn't really know anyone. And I really want her to be around people her age who are doing the same thing."
Williams went on to say that "because I'm like the shyest freak when I'm not on stage" she didn't contact Swift for a while.
"I did not text her until a certain VMAs scandal," Williams continued, explaining that she did so then because "this person is really cool and did not deserve that".
At the 2009 MTV VMAs (Video Music Awards) West stormed the stage when Swift was accepting the award for Best Video by a Female Artist and told her, "I'mma let you finish, but Beyoncé had one of the best videos of all time! One of the best videos of all time!"
Williams added: "So around that time is when I got to know a little bit Ms Taylor Swift.
"We've got to watch her trajectory. And I'm sure you know this because you're here tonight and you obviously get it, but there are moments when I talk to people that I'm like, 'I am not sure that you get how fucking incredible this person is, this artist is.'"
Swift's 'Eras' tour opened last night with a mammoth 44-song setlist across a career-spanning set that lasted just over three hours – watch footage here.
The singer performed a selection of tracks from each of her ten albums, beginning with 2019's 'Lover' and followed by 'Fearless', 'Evermore', 'Reputation', 'Speak Now', 'Red', 'Folklore', '1989', 'Taylor Swift' and finally 'Midnights'.
Swift's tour has so far been confirmed for dates in the US this spring and summer, however, a note on her website says that international dates are still to be announced.